Polyethylene terephthalate – or PET for short – has a wide range of applications. PET plays a big role in nearly every area of daily life. PET is a material that can be found not only in a variety of different forms, but also in a wide range of applications. PET is too valuable to only be used once and can be used for much more than just packaging.
PET bottles
Nearly a third of a new PET bottle used by one of our shareholders is made up of a used PET bottle. The vast majority of the raw material produced at PET to PET is reused in this way. The most important characteristics of PET include its weight, resistance to breakage, and mouldability.
Strapping bands
They hold everything together and require the use of a knife or scissors when you receive a package at home. We're talking about the roughly one-centimetre wide strapping bands that are made of PET and have become a ubiquitous part of packaging technology.
Textile fibre
Characteristics such as an especially high resistance to ripping and abrasion and low absorption of fluid make PET the most important textile fibre, also known as polyester. It is also wrinkle-free, weatherproof, and fast-drying. The popular fleece fabric, for example, is made of PET. Textile fibres made of polyethylene terephthalate are commonly used in sporting goods as well as winter and outdoor clothing.
Polyester film
The production of film is a major area of application for PET. It is used for everything from typewriter ribbons, film stock, and photographic film to substrates for magnetic tape, packaging film, and light protection film. Metallised films, which are used as first aid blankets for accident victims, for example, are also made of PET.
Vascular prostheses
PET is also used in medical applications. Polyethylene terephthalate offers particularly good tissue tolerability and is therefore used for vascular prostheses. Chronic vasoconstriction or heavily damaged vascular segments can be treated using biocompatible PET.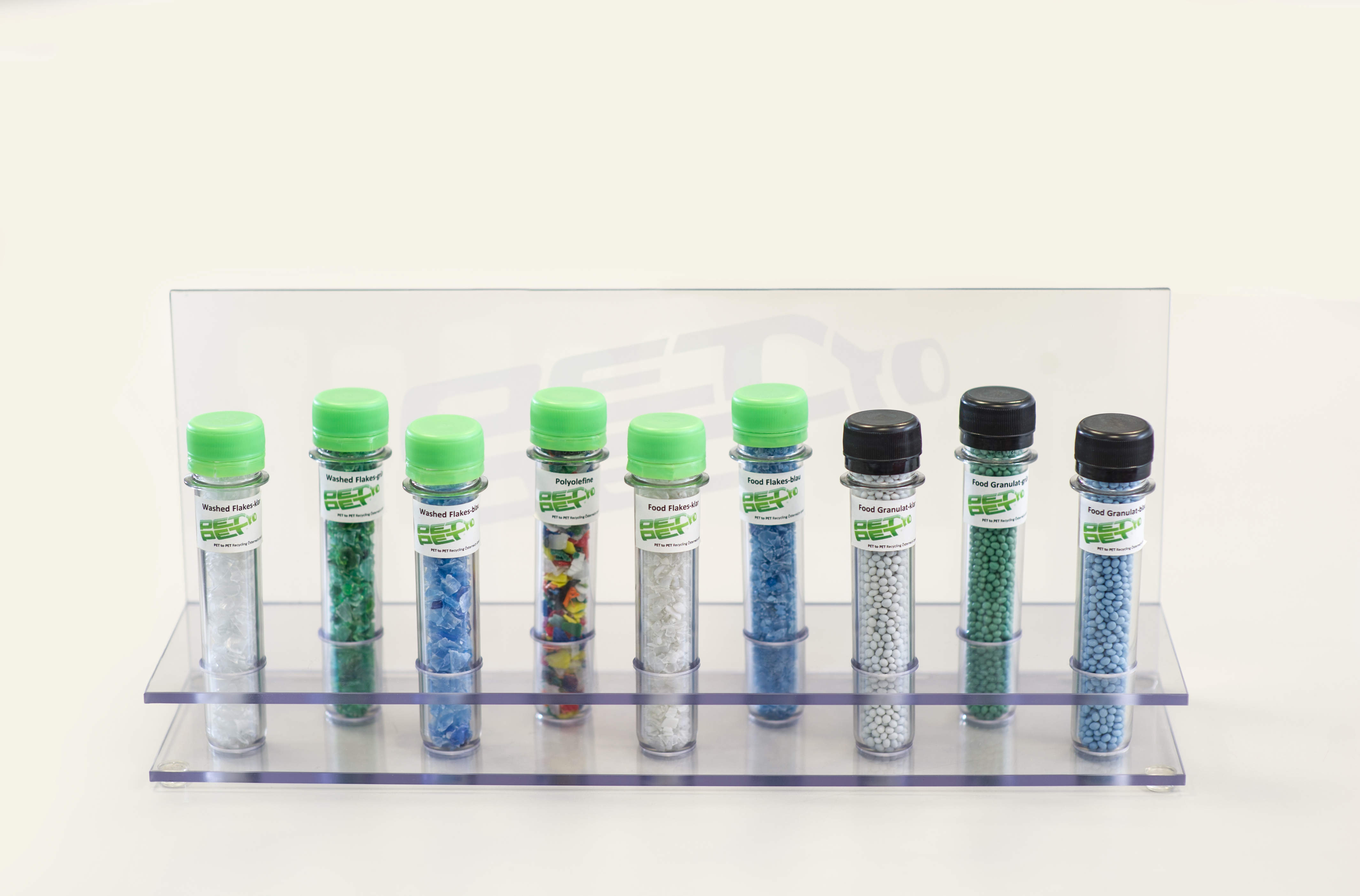 Did you know that …
… beverage packaging made of PET contains 30-40% recycled PET on average?
This means that nearly a third of every PET bottle stems from recycling. Bottle-to-bottle recycling, in which old bottles are turned into new ones, closes the PET material loop. The aim is to further develop the material loop in order to increase the usage quantities.
… two processes that are at the pinnacle of technology and plant engineering are used to turn old PET bottles into raw material for new bottles?
In the URRC process (United Resource Recovery Corporation), old PET bottles are cleaned and recycled in accordance with the highest food industry standards. This energy-efficient process does not employ melting or filtration and prevents the material from being damaged.
The treatment during the melting phase of the Starlinger process ensures that the cleaning and shaping of the pellets for further processing fulfil the highest standards and allows the advantages of pellets and URRC flakes to be combined during joint processing.
… the Austrians are among the top of the field in Europe when it comes to the collection of PET packaging?
Three out of every four PET bottles are collected and recycled in an environmentally friendly manner in Austria. With a recovery rate of 75%, Austria is at the very front of the pack in international comparison. (Source: ARA, June 2017)
… two-thirds of all PET bottles collected in Austria are recycled?
Each year, approximately 570 million PET bottles are processed at PET to PET Recycling in Müllendorf and reused in food packaging. Approximately 40,000 tonnes of PET bottles come into circulation through the trade industry in Austria each year.
… PET stands for polyethylene terephthalate?
Polyethylene terephthalate (PET) is a plastic from the polyester family. It is processed and used in many different forms. The most common areas of application include the production of all types of plastic bottles and the manufacturing of textile fibres. Through special processing, PET can be completely clear and have a high level of transparency. This is why it is often used for food packaging and bottles.
… PET is a valuable raw material?
Along with being used as a high-quality packaging material for food, PET is also used in the clothing industry (textile fibres) and in medical technology.
Discover further details